kruva zmoniu is atlieku pasidirba didziuliu plaustu ir plaukia keleta tukstanciu kilometru Misisipe is Minneapolio iki New Orleans. Artejant vasarai atrodo kaip geras uzsiemimas.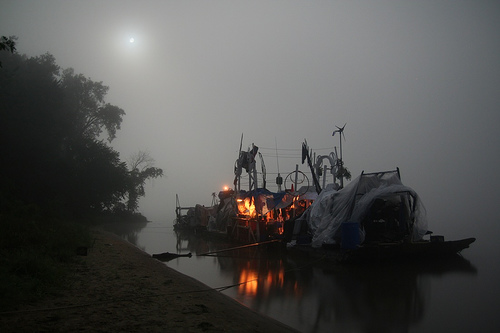 "We pieced together our pontoons and filled them with salvaged blocks of foam. We made it beautiful and tied on anything that would float, adding it to our junk armada, our anarchist county fair, our fools ark. Our precious cargo is everything we hold dear: pieces and parts of the culture we are already creating. Our zines and puppets, sewing projects and poster campaigns, mutant bicycles and punk rock marching bands. Plus our thoughts and dreams and irrepressible energy." -
Miss Rockaway Armada
ir nuostabios foto
O cia is kitur trash bots pavyzdziai, biski primine bambaliu plausta per Darom.